#RE: Afterlife promotional poster. So Alice gonna kill some zombies with the revolver only ?#
I cant stop myself for the excitement of watching the latest Resident Evil movie soon in cinemas, with 3D !!! Remember the same 3D feeling you got while you're watching the blue human Avatar last year by James Cameron ? The same technology has been used on the latest installment of Resident Evil movie.
#Why are there so many Alices in this poster/wallpaper ? Recall the ending of RE: Extinction.#
The world's population has been decreasing, thanks to the T-virus outbreak in Racoon City and its creator, Umbrella Corporation. In the previous movie, Claire and her gang were trying to bring the survivors to a place where they think there's no infection - Alaska. Meanwhile Alice is creating a huge army of her own clones to fight the infection while searching for any survivors and heading towards Tokyo, Japan to meet Albert Wesker, the head of Umbrella Corporation.
#Albert Wesker, portrayed by Shawn Roberts.#
If you're thinking like "hey, I'm kinda remember that fella at the back"... you might seen them in the famous series back then.
#Isnt it clearer now ? Left to right: Ali Larter of Heroes as Claire Redfield, Wentworth Miller of Prison break as Chris Redfield and the main character, Milla Jovovich as Alice.#
If Chris Redfield is in the movie, who do you think is missing ? Yeah, his partner Jill Valentine. Sienna Guillory is reprising her role as Jill Valentine just like she did for the second movie RE: Apocalypse. And talking about Chris, one of the famous scene in the game Resident Evil 5 was the battle between Chris and Wesker. Its gotta be fun to watch the scene in 3D.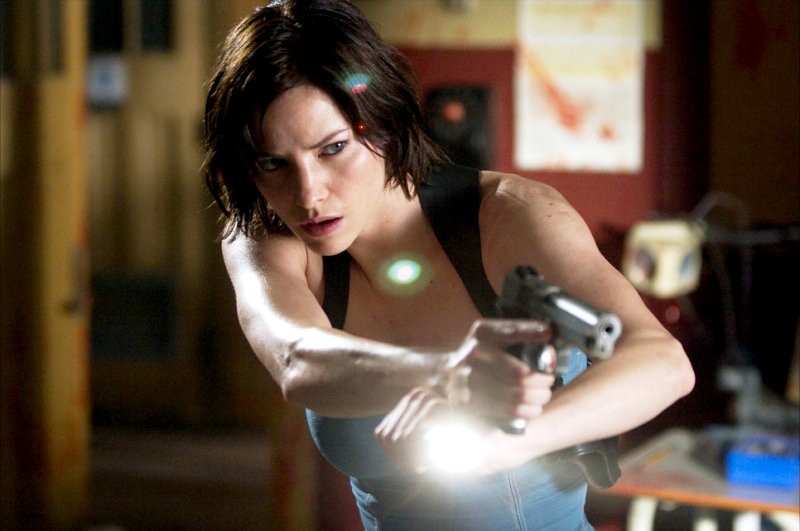 #Sienna Guillory as Jill Valentine.#
In the movie trailer, the most catchy thing I seen is the zombie named Executioner and Majini that appeared in the game Resident Evil 5. So does that means that the Umbrella Corporation in the movie already finished their parasite experimenting in Africa ? Not forgetting the Majini-like dogs too.
#Executioner with his big axe.#
Enough for all the words now, enjoy the movie trailer below.
Resident Evil: Afterlife will hit the screens in the cinema on 2nd of September (3D) and 9th of September in Malaysia according to GSC.